Simple Boho Crochet Sweater (Pattern Review)
So I've noticed over the past few months that there's a ridiculously simple crochet sweater/cardigan/shrug pattern circling Pinterest, originally created over at Lion Brand Yarns. This pattern boasts about it's incredibly simple crochet cardigan made of just one giant rectangle, and worked on a big hook. A few variations of the pattern have popped up as well, and I wanted to write up a compilation and review of a few of these things to try and spread the joy of making this super simple, yet still very trendy crochet cardigan!
I'm so surprised that more people haven't discovered this pattern yet, so I wanted to take some time to share it with you and spread it some more. I've very commonly heard needle-crafters talk about how they would love to make a sweater. It's kind of like the ultimate project for most knitters/crocheters, but it is often seen as the most intimidating as well. I'm here to tell you that sweaters are no where near as scary as you think! Here are some photos of the finished product! (Please note that these photos are from Lion Brand and are linked to their site. They are not mine!)
Click each photo below to see the corresponding pattern from Lion Brand:
I could not believe that this was made from one giant crochet rectangle! I'm so used to sweater patterns being fitted and intricate, so this was a big change and it opened a lot of doors of opportunity for making sweaters…
I was skeptical at first, I thought maybe the rectangle would take a long time to work up… That's gotta be the catch, right? I was very, very wrong! I worked on this over the course of 5, non-consecutive, days for about 3 – 4 hours each day. I mostly worked on it while riding in the car and a little bit before bed. It was amazing how quickly this worked up and I'm so happy with the results!
The gist of the pattern is that you create your rectangle, fold it in half, seam part way up the sides to create sleeves, and then just put it on. Were you expecting something more? Sorry, it's seriously that simple! I thought it would be really awesome to try this pattern with some other types of crochet stitches, and I think it would also be amazing in knit! Since the fabric is made up of one piece, you can literally use ANY stitch or pattern you want, as long as the rectangle is the same size. I've also been looking into some variegated and self-striping yarn that might look really awesome. One of the original patterns uses Lion Brand "Tweed Stripes" and it looks absolutely stunning.
---
My Version
For mine I used 4 skeins of Lion Brand Jiffy yarn in "Wine".
My foundation chain was 80 chains.
I worked double crochet stitches in the back loop only, on every row. This created the "striped" or "ribbed" look in the fabric.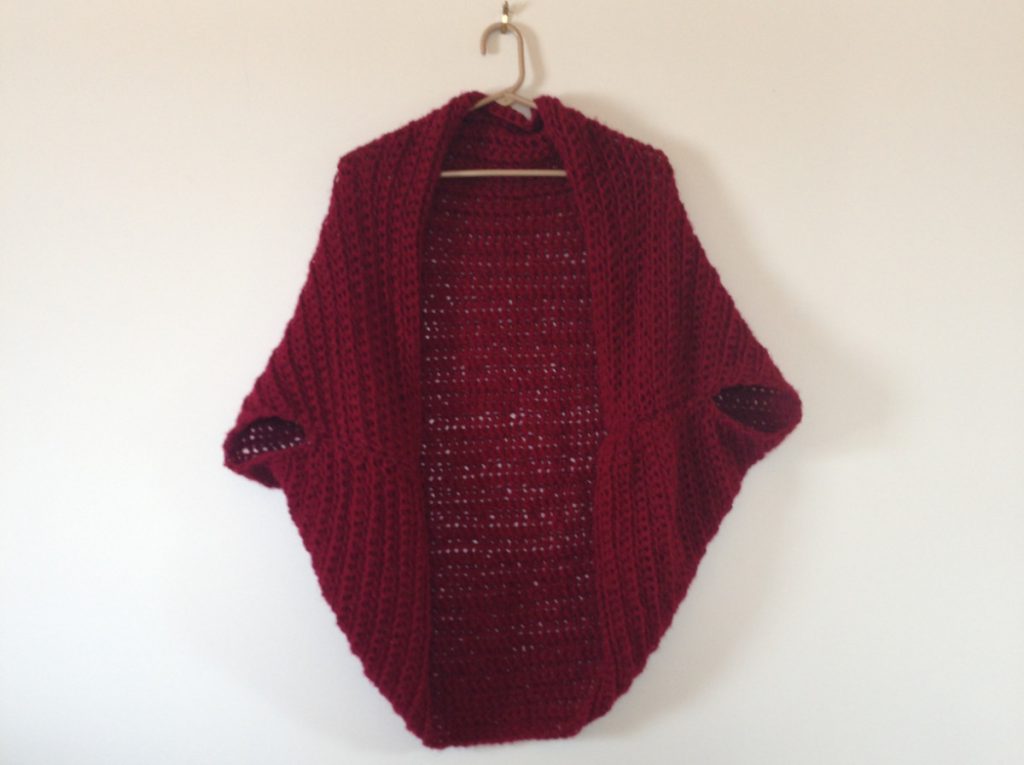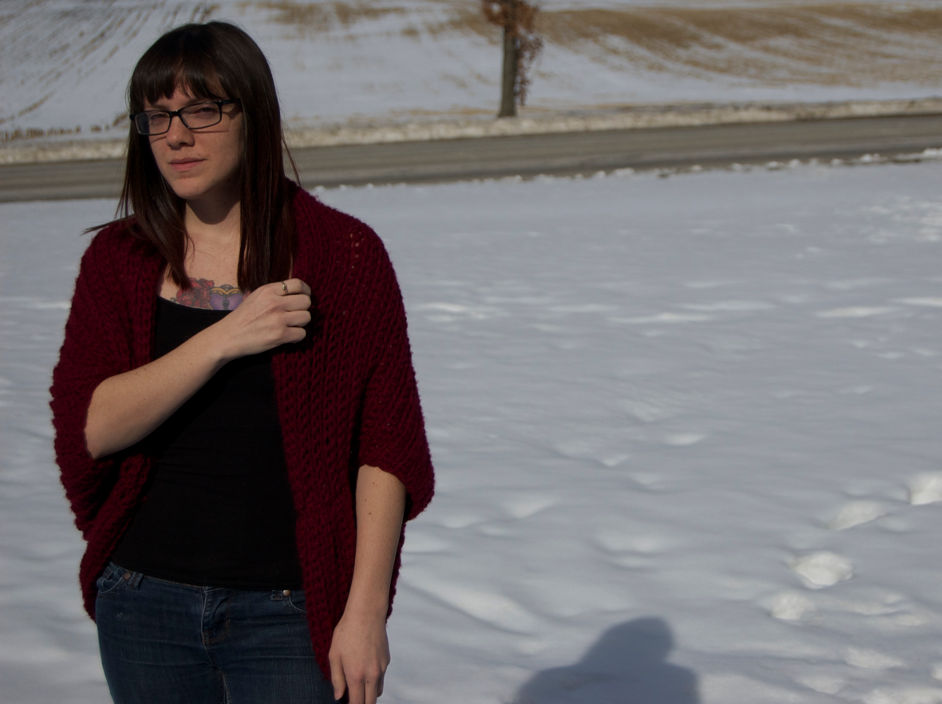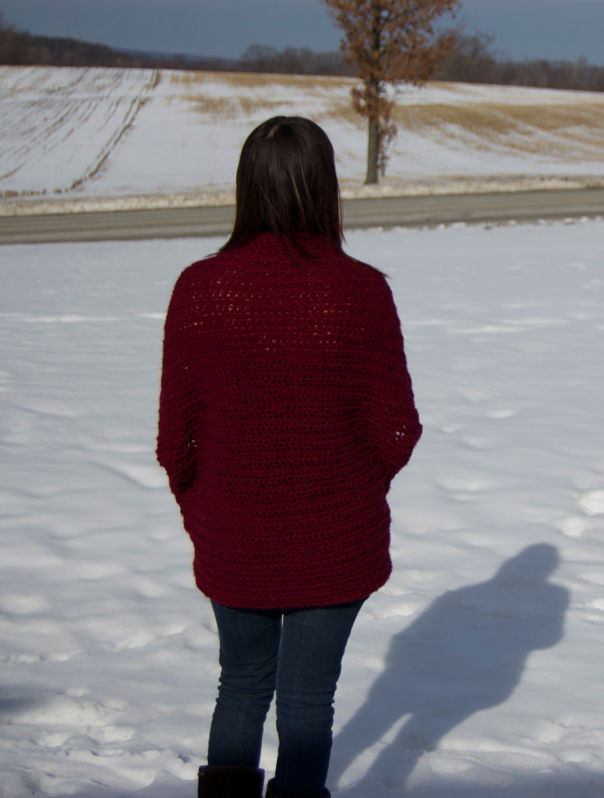 If you've created one of these shrugs yourself, feel free to share a link in the comments! You can also tag you Instagram photos with #myFOTM so that I can see and maybe even feature them! I'd love to see your creations! 🙂
---
Pattern Variations and Examples:
The Crafty Novice – Comfy Crochet Shrug
All About Ami – Easy Chunky Crochet Sweater
Glitter/Brushed Bronze Shrug on Ravelry