It's recently come to my attention that it's been a really long time since I released a free pattern on here… I've been really caught up in trying to monetize this blog and selling patterns that I haven't had much time to sit down and write out any of my simpler designs for you guys!
Today I'm going to change that, and I have a series of other FREE patterns that will be coming at ya this winter!
Meet the Allegheny Cowl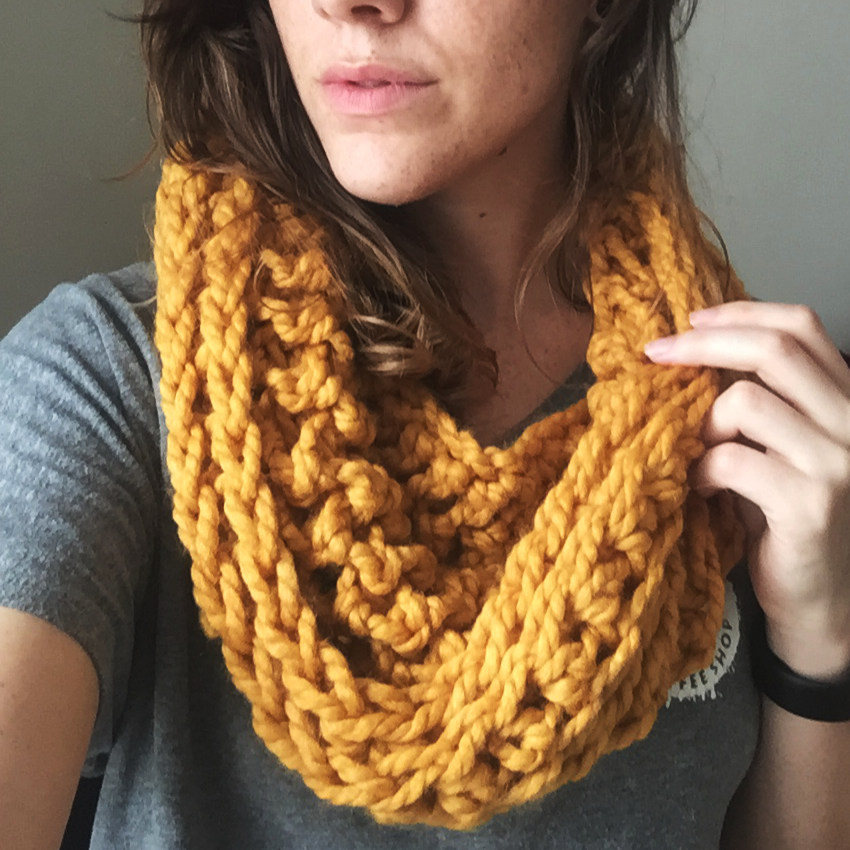 This cowl gets its name from a county in Southwestern PA, where Pittsburgh is located. If you know me IRL, you know that I absolutely adore Pittsburgh and spent a lot of time there (still do!) exploring and experiencing all the city has to offer. I went to art school for a short period of time and lived in the dorms right in the heart of downtown.
While living there, I stocked up on heavy winter clothing and accessories to combat walking to school in the dead of the Appalachian winter. I also took back up crocheting and made myself and my friends scarves and hats. One of my favorite projects I completed during my time in Pittsburgh was a seriously gigantic, cabled, crochet infinity scarf. I used 4 skeins of a chunky teal yarn that is unfortunately discontinued, and ended up with the chunkiest scarf I've ever seen! Since then I've been obsessed with chunky crochet accessories and oversized knits.
I created this Allegheny Cowl as a smaller, simpler, less expensive project that represents my love for bulky yarn and the chilly winters in Pittsburgh, PA. I hope you enjoy this super quick, beginner crochet pattern and it keeps you warm this winter!
Let's get started:
Materials
1 skein of LB Thick & Quick yarn, or ~106 yds (97 m) of your favorite #6 super bulky yarn
US size 15mm (P/Q) hook – or just use your finger! (Yes, you read that right)
Some scissors, a stitch marker, a ruler, and any other notions you normally use
Stitches & Abbreviations
ST(S) = stitch(es)
SL ST = slip stitch
CH = chain
SC = single crochet
HDC = half double crochet
BL(O) = back loop (only)
Directions
There is no gauge for this pattern. The goal is to have very loose stitches with a super bulky yarn, so adjust accordingly.
I meant it when I said you can just use your finger for this. I didn't own a hook larger than 10mm when the inspiration for this cowl struck. I made due with crocheting with my finger and it turned out perfect.  I will admit that crocheting with your finger can be hard on your wrists, so proceed with care here. You can use a very large crochet hook instead – 15mm or larger would work.
Cast on 35 STS
Join with a SL ST to begin working in the round
CH 1, then HDC in the next ST
Continue with an HDC in every ST around – be careful to not twist your foundation chain!
When you get back to the beg. of the round, HDC in the top of the CH 1 ST
Place a HDC in the BL of if the next ST
Continue with an HDC in the BLO of every stitch. (You can place a stitch marker at the beginning of the round to keep track.)
You are now working in a spiral in the round. Continue with HDC STS in the BLO of every ST until your cowl reaches ~10 inches tall, or until you use all of your yarn.
SC in the next ST, then 1 SL ST in the next 2 STS
Cut your yarn and tie off.
Weave in your ends and you're done!
---
This cowl is easy-peasy and looks great in every color. I love using LB Wool-Ease® Thick & Quick for this, but you can absolutely use any #6 super bulky yarn. Please feel free to sell the finished product made from this pattern. Please do NOT sell or promote this pattern as your own. If you choose to sell products made from this pattern, I ask that you sell at the same price that I sell them for in my store, or higher. If you have any questions about using the pattern, selling the products, or anything else, feel free to contact me!
Use #AlleghenyCowl on Instagram to show me what you create with this pattern! I can't wait to see what you guys come up with!
Action Shots